Senior Airman Carlene "CJ" Johnson, obtained her CDRE™ in 2018. She is a U.S. Air Force veteran, having served from 1989-1993, and in the Texas National Guard from 1996-1999.
A native of Mandeville, Jamaica, CJ came to America when she was six years old. When she was 17, while waiting for her mom to pick her up from Houston's Memorial City Mall, she happened to walked into a recruiter's office and decided then that she wanted to serve in the U.S. Air Force.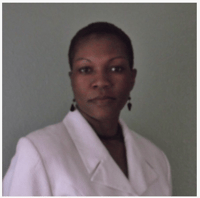 She left for Lackland Air Force Base in San Antonio, TX, where she completed her six-week basic training. She was later stationed at Seymour Johnson Air Force Base in Goldsboro, NC, when she got a phone call that she needed to report to a certain spot - that's when she learned she was about to be deployed to the Middle East. CJ served two tours in Saudia Arabia during Desert Shield, Desert Storm, and then Desert Watch.
Her time in the military made her who she is today. It showed her that she can endure far more challenges than she would have otherwise thought possible. It has made her stronger.
She cannot help but recognize a striking similarity between her time in active duty and the COVID situation we are all experiencing now. When she got her orders for deployment, she was told when she would be leaving - but not when she would return. There was no timeline put on her tours, much like the "tour" we are all on now during local and national shut downs. When alarms went off at night, they had to put on their chemical warfare suits with masks - the only other time in her life she's been forced to wear a mask, other than in today's climate.
While her fight for America's freedom is one of pride and honor, CJ realizes the fight isn't over. There is still a lot of work to be done. She saw, first hand, the presence that America has in the world - and implores all of us to listen, be tolerant of the cultures within and outside of our borders. To not get stuck on a belief that we are always right.
On this Independence Day, CJ recognizes not only the rights we have fought for as Americans, but all of our citizens who do not yet have enjoy the same freedoms and equality. Her hope is that conversations with open minds can take place, and pinpointed actions can be put behind words.
Thank you, CJ, for your service to our country, for your service to your community, for your authentic transparency. Indeed your wish for a brighter future is shared by all. It is an honor to have you represent our mission.