Jose Morales, CDRE™, graduated Cum Laude with a Business Administration Finance degree from Cal State Northridge.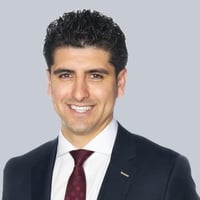 At the age of 33, Jose routinely out-performs his competitors, consistently selling $60 million dollars in annual sales volume per year. Personally, he has an impressive $7.2 million real estate investment portfolio that includes multi-unit and commercial properties, and his latest acquisition - a 25-unit, $4 million dollar apartment building.
Life hasn't always been this peachy for Jose. Ten years ago he was a self-proclaimed "partier." During a three month period, he got a DUI and was in a near-fatal car accident. He went from having $6,000 in the bank to being flat broke, losing his license, and riding the bus.
Jose has a beautiful wife and is a proud father to a one year old boy. When COVID hit, Jose panicked - for a moment. With not only a roof over his head and mouths to feed at home, he has a team that he runs who depend on his leadership and fortitude. There's a lot at stake. Jose stockpiled supplies, and stressed over his business. He admits that his first response was fear.
Jose didn't remain stuck in fear for long. He quickly recalled his survival techniques that got him through life's prior challenges, and he did what he did then - focused on what he could control.
He recognized that he had to focus on his mental shape first - that would dictate everything. He fueled his mind with knowledge - read four books and committed to a 75-day hard-core mental and physical challenge. He realized that the quarantine presented some opportunities for him to be more productive and efficient that he hadn't had before. There were no family gatherings or travel and speaking gigs. Zoom meetings served to make him much more efficient with his time, and many other agents in his office scaled back which left plenty of opportunity for Jose to serve clients in need with little - if any - competition.
"If I focus on what I can't control, it is going to leave me frustrated and paralyzed. So I chose to focus on my health, my mind, and my business plan. At the beginning of the week, I review my numbers; at the end of the week, I review my business plan for the next week. In order to get through this, I knew I needed to be in the best shape mentally, physically, and spiritually."
And it worked. He's lost 20 pounds, feels more optimistic than ever, and his team finished May in the #1 spot.
Thank you, Jose, for modeling the behavior of a survivalist - and a champion. Nice work, we are proud to have you as part of our Ilumni family.