Grab some coffee, nod to two far you've come, chart your course, and raise your glass to the future!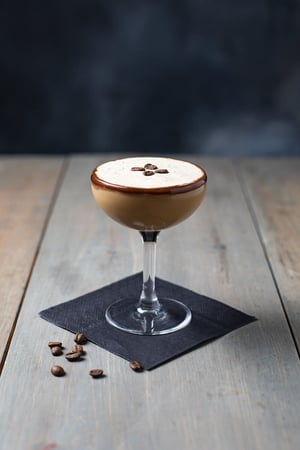 the sunrise
1 1/2 ounces vanilla vodka or vodka
1 ounce cafe bustelo instant espresso or fresh espresso
1 ounce kahlua or coffee liqueur
1 ounce creme de cocoa
1/2 – 3/4 ounce cream or heavy cream
chocolate syrup for rim and coffee beans for garnish
The Steps...
Pour some chocolate syrup on a plate and dip a chilled coupe glass upside down in the chocolate to coat the rim of the glass.
Bring 1 ounce of water to a boil in a microwaveable safe measuring cup, about 1-2 minutes.
Add 1 tablespoon of instant espresso to the water, stir and set aside.
Combine all ingredients in a cocktail shaker with no ice yet. Add the espresso last and then fill with a cup of ice.
Shake vigorously for 10 seconds and serve straight up in your chilled coupe.
Garnish with espresso or coffee beans.