Today's tap is about the end of painful pasts, and the start of new beginnings. Join me in raising a glass to the start a new era - one of freedom, dignity, and hope.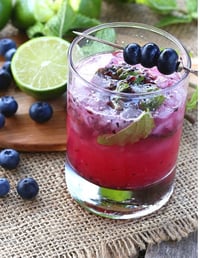 The June Cocktail
3/4 C fresh blueberries
3-4 TBSP powdered Swerve Sweetener
1/4 C packed mint leaves
1 C white rum
1/3 C fresh lime juice
1/2 liter club soda
Blueberries and mint leaves for garnish
In a blender, combine blueberries and powdered sweetener. Blend to a thick puree. Transfer to a pitcher.
Tear mint leaves by hand and add to a pitcher that holds at least one liter. Crush with a muddler or the end of a wooden spoon to release the oils. Add blueberry puree, white rum, lime juice and soda and stir to combine.
Fill 4 highball or bucket glasses with crushed ice. Pour mojitos into glasses, garnish with blueberries and mint leaves and serve.
What's on Tap is brought to you by our Director of Fun, Nikki Mason